I don't know how much more 90s an entity can get.  An entity that was originally a toyline to rival Polly Pockets, then later translated as a game for Super Nintendo and Sega.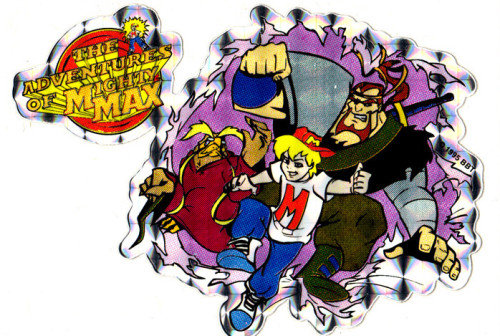 Wait, it gets even more epic. The creators must have been inspired after seeing the success Terminator 2: Judgment Day got, which so happened to come out a year earlier before Mighty Max did.  Norman and Max could fool anybody for a John Conner and Arnold.
Perhaps from my developing memory as a 3 year old, I only really remember the 1 minute opening sequence with the guitar-wailing style intro song.  But today I'm making the effort to go through all 40 episodes with a fine-toothed comb, as the nostalgia appeal is deeply rooted.
My impression so far?  Surprised.
Max will make cultural references from what was relevant then, like the grunge movement scene in Seattle that was emerging.  A lot of villain-type characters that cross over into the horror.
Above all else, the texture of the animation drips with vintage qualities that only 20 years of time can do.
Bootlegged Copies are False Hope
There's yet to be word of a Mighty Max DVD, yet there are glimpse trends of fans gathering together online, and elsewhere .
What we do have are forums, fan pages and similar to make it known that this is one HECK of a cartoon.
It might not have the physique of Spongebob or the eccentric character based lineup like Rocko's Modern Life, but vintage prevails.
Your Best Bet?  A Quality Mighty Max VHS
Yes, the next best thing.  Those complete series dvds floating around are usually inferior because they've been transferred from a VHS.
Heck, I'm considering getting a VHS player (September 2015 update- my dad gave me a vhs player a while back!) just to assimilate into the 90s living room again, when the early 90s was still reaching out by broadcasting shows like Mighty Max.  I miss that.  I really do.
eBay has the best selection of Mighty Max VHS Tapes
Here's What you'll find on Amazon.com (not my preference)
This one looks to have the best quality judging from the comments it got:

The Skullmaster Trilogy (1994)- 64 minute/3 episodes?
Unofficial episodes:
A Bellwether in Ones Cap (Ep. 1)
Bring Me the Head of Mighty Max (Ep. 10)
The Magnificent Seven (Ep. 13)
The Adventures of Mighty Max (1993)- 2 Episodes
Official episodes:

The Brain Suckers Cometh (Ep. 2)
Norman's Conquest (Ep. 8)
The one low comment someone left is irrelevant if you ask me.
Lets face it.  Max is a unique character, unlike anything from the 90s.  Just look at his getup.  Taking away his hat would be like taking the hat off Tom Morello from Rage Against the Machine- both would be bare.
"Proof is in the Youtube"
Most of the episodes have found their home on youtube where their cult following can relinquish.
My question would be, if these videos are getting hundreds of thousands of hits, why isn't Mattel, Film Roman, Vivendi, or whoever has the final say in releasing this thing- why don't they pounce on this opportunity?  A 40-episode dvd set could easily sell for $40, $50.
SERIOUSLY, get yourself a cheap VHS player and consider one of the Mighty Max movies I have listed above.  Here, I'll help you out:
The most relevant results when you search for "Mighty Max" in Youtube:
The Mighty Max intro itself has over a million views.  That was uploaded six years ago.  If you crunch some numbers, that would come out to be over 450 visits a day.  Granted, some of them are Youtube lurkers going through their 90s flashbacks, but that average still comes out to be a lot.
Maybe you've never heard of this cartoon, but to have it in it's untouched state with no compression would be a treasure for the fans of the show as well as to document this 90s flashback forever.
Not Quite Fit for Nickelodeon
Max had that gritty, unpolished feel that those older-fashioned cartoons thrived on, especially pre-'96. High definition wasn't even given a passing thought.
Here in Minnesota the temps get so cold that I habitually got up right before 6am and placed myself in front of the heating vent, drawn in by the fast paced action and hypnotizing intro scene I became familiar with.  An innocent time..
The minds of these early 90s cartoonists brought out an unadulterated variety from the cartoonists own niche perspective, rather than altering it for the widest audience appeal- when story lines were more the focal point.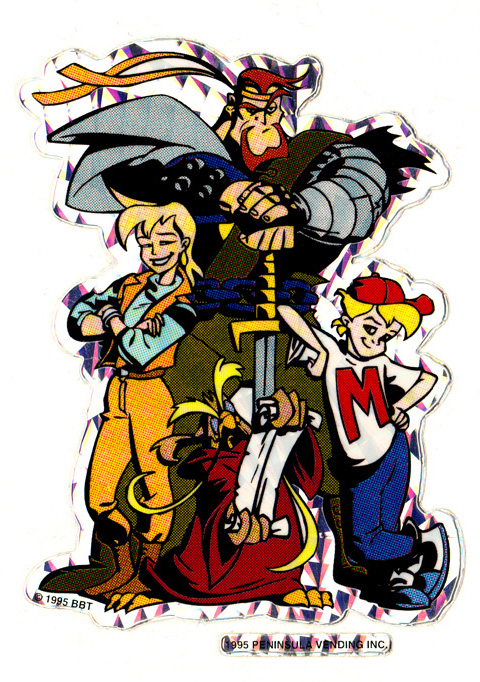 The list is long, e.g. Darkwing Duck, Rocko's Modern Life, Ren & Stimpy Show, Aaah!! Real Monsters…, all of course more popular than Mighty Max, but, following the same uninhibited trend.  Eccentric characters.  Misadventures.
In the case of Mighty Max, they stayed true to a horroresque-sci fi  thing.  The farther from '95 you go the less distinctive the cartoons are, in my opinion.
No way would an animated series today get away with drawing in combat scenes and associated weaponry to the age range Mighty Max intended- TV-Y7.  Sign of the times, perhaps.
Mighty Max is invariably one 'Mighty One' of a flick.
---
Teaser photo and "sticker" photo by V&A Steamworks of Flickr