Before I get into the awesomeness this toy set was for the 90s child, I want to mention, you'll rarely find them sold anywhere because of their obscurity.  I found one on Amazon, and several on eBay, but that's it.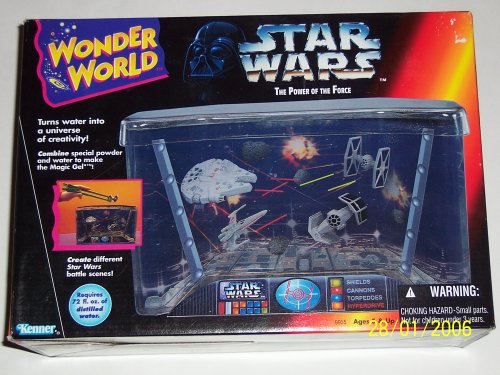 There was a huge push for Star Wars action figures in 1995, and Kenner capitalized on the opportunity by combining their own line of Star Wars figures, called "The Power of the Force", with Wonder World.
The Concept
Kenner (purchased by Hasbro) created an aquarium depicting various, underwater scenes and sea life.  This makes for a real nice art piece after it's all set up.  It's not a toy that can be repeatedly played with- it's more for display.
The Gel- Holding it all Together

The greatness lies in its gelatinous filling- by mixing the supplied powder packets with distilled water.  This transparent gel holds and suspends objects in place including plastic fish, sharks, scuba divers, mermaids, octopus, and even submarines.  Most of the kits had these as well as a set of tongs to place them where you wanted to.
If you get the "Piranha Attack" set, you'd have the option to add fake blood trails to make the simulation of a fish tank more convincing.  They also gave you a pipette to blow bubbles into the gel to make it look like the sea creatures were living.
After all is set up, you have an aquarium that can be admirably looked at.
What set was the best one?
The one pictured above is the Star Wars version and is the easiest of them to find today, although my memory of it lies in the original (sea creatures; scuba divers).  Other versions of the Water World Aquarium- "My Pretty Mermaid" and the "NASA Space Shuttle" have their place but don't really stand up to the original stock set, in my opinion.
"A Magical World"
I never got one as a kid, and I vaguely remembered it.  It was its TV commercial I found somewhere which had a nostalgic familiarity.  Especially the characteristic 90s vibe- two kids walking into a 'wall' of water,  the dramatic voice of the narrator, and its unmistakeable jingle- "Wonder World, a magical world in the making.."
Although for me it kind of symbolized what Toys 'R Us was shelving, and my fascination of what else is out there that I missed out on.
To think they started manufacturing the aquariums sometime in the summer of '95, up until '97 when it's market appeal started fading, goes to show the toy industries need for the latest trend, rather than giving it a respect as one of the unique toys in the heart of the 90s with its own niche.  Toys like that are rare these days.